How to automate and grow your business: Beezr Guide
This is Beezr's complete guide on how to automate and grow your business.
So if you want to:
Understand how you can automate work between your teams.
End manual tasks and boost team productivity.
Have a clear 360 vision of your business performance.
Then you'll love the detailed strategies in today's guide.
Let's dive right in.
Stage 1: Identify and Categorize your data
You already know that your data is the most important part of your business, and that is where you should start the journey.
So, to make this process easy, I like to start with 3 simple data categories: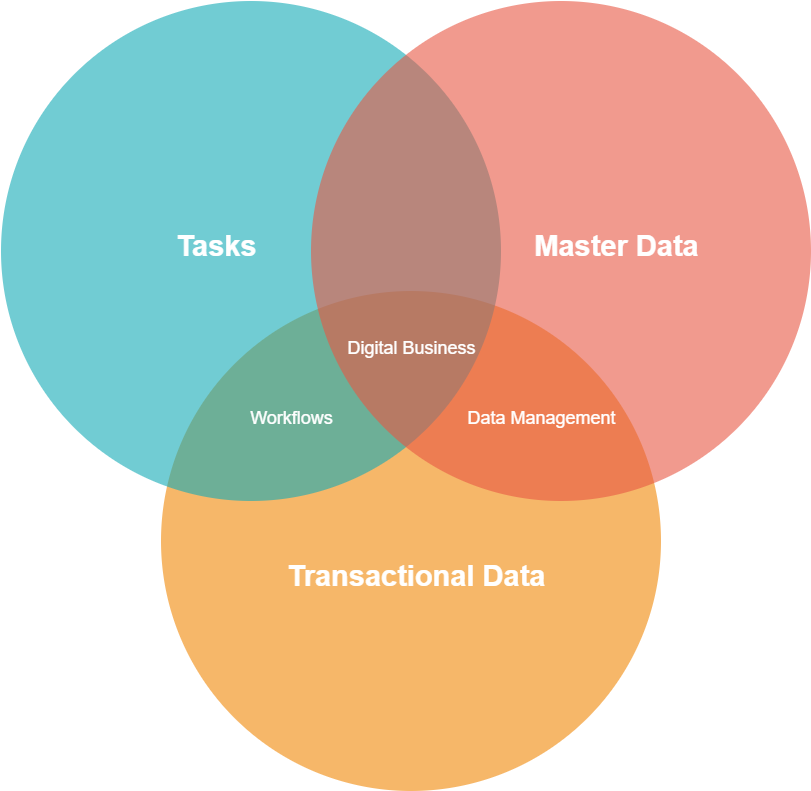 Tasks – Activities that you or your team members need to take care of.
Master Data – Data that should exist in singularity (no duplicates). An example would be your customer information and product specifications.
Transactional Data – Your actual business transactions flow in and out.
In the diagram above, you will see how each data type affects your business operations.
Master and transactional data work together to help maintain a clean system of record for your business.
Tasks and transactional data combine to create a workflow.
All three, when properly managed, provide you with an agile digital business platform.
Stage 2: Take inventory of your data
You need to understand how information flows and is stored in your organization. In most cases, companies will discover that they have data silos, meaning that their information is fragmented into different mediums with no connectivity.
An example of that is some information that could be in spreadsheets, CRM, and accounting software.
This exercise is crucial because you can discover data mismatches. That happens when there is duplication of records (the same sales order is created in the CRM and another one for the same order on the accounting system), making you question which is the source of truth.
Another important discovery is data leaks, which means that some information about your business only exists on the local computer of an employee (with good intent).
Here is an example of how that inventory tracker could look like:
Stage 3: Information Channel Analysis – How is your data captured
The first 2 stages help you create a map of your data journey based on historical transactions. Now, it's time for you to understand how those records came into your organization in the first place. Making sure that the solution you come up with covers all cases.
Here's what your need to do:
Take a list of all the channels your business interacts with:
Company line
Sales team
e-commerce
Social media
Physical store
Now it's time to understand the actual transactions each channel is responsible for. Here is how you can do that:
Use the categorized lists you created from the first stage.
Ask the team members in each channel which data they capture.
Ask them to share where and how they store each data type.
You can utilize an Ishikawa diagram (even if it's not what it is intended for) to build a visual diagram of your data-channel map. Here is an example:
If you discover that the same data type is being stored in different places, you need to understand why this behavior occurs. This could be to multiple reasons, such as:
Employees don't have access to the proper system.
The system is hard to use or is not flexible to the business needs.
They didn't know which system to use.
Laziness from their side. If so, why?
This kind of behavioral analysis of your team will feed your decision on the proper solution later on, don't get emotional.
Stage 4: Business Process Analysis – How your data moves
Your business is a living organism and how information flows through. It is like the blood of that organism.
To start your workflow analysis exercise, let's break down your processes into 2 categories:
Services:
A service you provide for your target audience, which in return will result in new information going into one of the channels.
Your services can be further sub-categorized into 2 categories:
External Services:
Which are services provided to external parties outside your organization.
Here are a few examples of External services:
Account Registration
Buy or rent an item
Return a product or extend a booking
Online payment
Submit complain
Internal Services:
Services you provide to your internal staff.
An example of internal services are:
Submit vacation request
Submit expense request
Accounts payable services
Vendor Registration
Start listing down each service you provide both internally and externally, even if those services are verbal or common sense to you.
Workflows:
Ask yourself: What steps are needed to fulfill each service you provide?
Step 1: Draw each step in a block, pull an arrow, and link them together in the proper sequence. Again, write it down even if it is common sense to you…it might not be for your team.
Step 2: Now, identify which workflow steps require human intervention and which do not. Tag each block with human or not.
Step 3: Describe what happens in each step:

Does an employee print and sign an order?
Is it an approval step?
Is a record entered in a system?
Does the employee call someone internally for more information?
Step 4: How does your data transition from one step to the next? How are different team members notified?

Is it by automated mail or written mail from the member before?
Is it by a call?

Step 5: Identify how your workflow terminates. Ask these questions:

What happens if there is a failure in any step? What are the steps for that?
What are the reasons for failure?

Step 6: What are the validation rules for each step?
Check out some ideas to process you can start automating today
Stage 5: Crunch your findings and create an automation plan
All the data you've managed to gather in the first 4 stages will fuel your growth. Before jumping into the next part of the guide, I have to stress one point; your solution is only as good as the data backing it!
First thing, lay out the strategic goals for your solution. I've listed some below:
Accessed by all team members.
Simple and flexible.
Scalable and adaptable.
Measurable
Optimizable
Reporting
Once you have the goals in place, it's time to dive a level deeper, and this is the time to use the data you've gathered.
If we breakdown the solution-building process into steps, it will look something like this:
Data Management:
In simple words, how do you enter, view, and edit your data? When we are talking about business data, context is everything!
That is the reason there are so many software applications, for example:
A CRM application handles your data in the context of customer profiles, sales, and sellable items. It is also responsible for creating a logical relationship between your data records.
An ERP application helps you handle all your enterprise assets and the supply chain.
An accounting software, well, it helps you manage your accounting 🙂
That being said, the answer to your question is: No. There is no one solution that best fits all, and there will never be! That is why it's challenging.
But with the help of the data you have now, you can shortlist potential candidates that support handling your business data.
What are my options?
Universally, you have 2 options: either go with an off-the-shelf product or create your own bespoke customized software.
How to choose the best option?
So, here's the thing:
Choosing the best option relies on a few factors:
Coverage:
If you don't find a product that matches your requirements, you will choose a customized one.
Cost:

How much are you willing to invest?
Is your investment short-lived? You'll continuously need to push more money to enhance and expand your platform.
Which is better for you, a CAPEX or an OPEX model? In more software terms, are cloud and SaaS better for your business or an on-premise application you own on your computer or server?

Partner:
Software is easy, but finding the right partner is hard. Don't let cost be the only factor in your choice. Having a knowledgeable and helpful partner can make or break your solution.
Why do my team members still use excel & spreadsheets?
More often than not, you've invested in a great solution, and the team gave you fantastic feedback. However, after a few months, you discover your team is back to using spreadsheets again besides your beautiful software application.
This falls back on the following reasons:
The application is slow
The application is not intuitive
You've grown, but your application does not cover new cases.
The team found a faster way of doing things not supported by the application.
I know it's frustrating. But remember what I told you earlier about the strategic goals? Your solution has to be scalable, simple, and flexible.
Your business is constantly changing and growing, and your applications need to adapt to the same changes and speed, or it will become a bottleneck rather than a solution.
How can I build an adaptive, fast and flexible automated solution?
With the rise of Covid, businesses realized that their business models have to change. This change was not a one-time thing but an ongoing process to find better ways to serve customers.
After that came the popularity boost of no-code platforms.
No-code platforms enable you to build, customize and change your software with drag-and-drop builders rather than code.
This gives you the flexibility to be as innovative as you need to rise above the competition by testing new ideas in a matter of hours.
Security:
Having excellent data management is worthless if you can't secure it!
When we say security, we are specially talking about access control. Who can view, edit or even delete your company data?
Whatever solution you aim for, give special attention to their access rights management capabilities and how they match your organizational structure.
Check out our access control capabilities here; you'll love them!
Workflow automation:
You already have all your workflows documented and mapped; it's time to automate and automate and automate!
BPMS, or Business Process Management Systems, helps you visualize your workflow and automate the different steps. BPMS are also vital for your ever-changing business because you can quickly create new services or optimize existing workflows with a drag-and-drop designer.
One of the important features of process automation is the power of integration. Removing manual tasks means that the workflow will be responsible for writing, reading, and updating other mediums, whether within the same application or external applications, with the help of connectors and APIs.
BAM or Business Activity Monitoring capabilities help you keep track of the average time your process takes from start to finish. You can create SLAs for your processes to ensure consistent behavior… your customers will love you for that. Analyze bottlenecks and optimize your process as you go.
At Beezr, we believe that automation is the lifeblood of business. We ensured that our workflow engine helps our customers harness the power of automation at every step of their business. Check out our features here.
Reporting:
Now that everything is in place, from your records management to automation, you need access to all your data and generate the proper insights.
A robust reporting engine is a key to building valuable dashboards, detailed reports, and actionable insights on your business transactions. This kind of reporting allows you to understand your business better and continuously optimize and create new services that will add to your bottom line.
We've helped customers consolidate all their data and transactions under one unified digital platform. Then, we applied our reporting engine to the data. They were amazed by how much information they could use to feed their marketing and sales department to increase customer acquisition. Also, they found new ways to optimize their operations and day-to-day activities.
Stage 6: Make automation a habit and repeat
The truth is, it's a never-ending job, and it should be. Actually, when changes are required to your system and framework, that is a good sign. It means that you are growing and the plan you've spent all that time and money on actually worked!
It's time to pick the pen and paper and start again. The good news, it will be faster the second and third time.
Need Help Getting Started?
You don't have to start the journey alone. We'd love to be part of your digital transformation and automation journey. Just signup here, and you can begin your trial for free.
Tags In