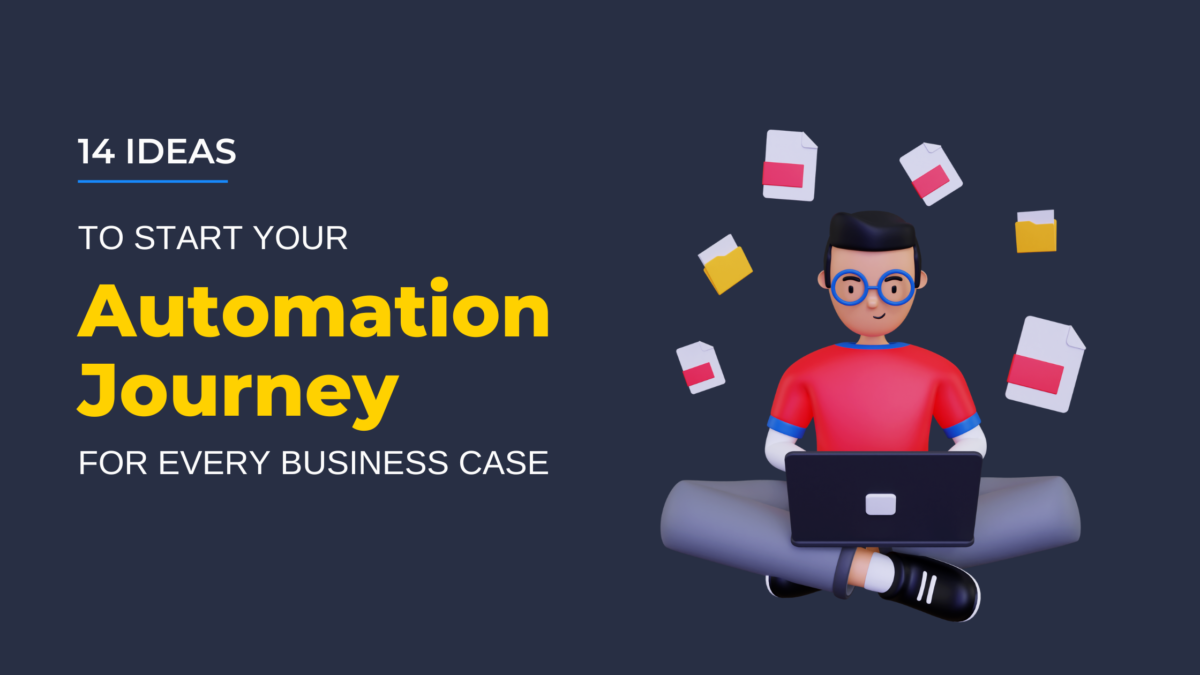 14 Ideas to Start your Automation Journey
In this article, we will give you advice on how to start your digital automation journey.
One of the critical qualities of a small and rising business is the ability to "wear many hats." This is often true whether the company is a one-person operation or has a sizeable team.
Here is the problem with wearing too many hats:
Your attention is always divided over many tasks.
You and your team are constantly working to keep up with the workload.
You will always fall behind on your assignments, eventually hurting your business.
So let's get to it.
First, let's agree that having a standardized process for critical tasks is crucial for your business.
A standard procedure ensures a repeatable and expected behavior, it is also measurable, and you can continuously optimize by making your operations resilient.
On the other hand, your operations are prone to human error without a procedure, like forgetting details, skipping steps, and unexpected behavior. In every business, some processes are repetitive and don't usually change; those are the candidates to start your automation journey.
The Myth of Automation
Historically, automation was limited to enterprises using expensive and complicated tools. Since then, it has become a myth that small and medium-sized businesses must invest in automation tools.
However, technology has come a long way to provide affordable and straightforward tools for every business. This means you can start automating tedious tasks and focus on the activities that grow your business. Combining your team's talents with the power of automation will save money and time and maximize growth.
Here's a way of thinking…
We can categorize business activities into two groups: Core and Support activities.
Core activities are the ones responsible for generating income.
Support activities are there to support the operation of the core ones.
We can further categorize the types of automation into three departmental categories; Sales, Operations, and Marketing.
Sales Automation Examples
Some think that automating and digitizing sales is another word for e-commerce. There are many aspects of sales, either for physical or social channels, that can and should be automated.
Furthermore, customers can use different channels to interact with a business in today's world and expect a seamless experience.
For example, a customer can buy a service or a product (Core Activity) from a physical store and send a query or a complaint later on a social media page requiring support (Support Activity).
The team will identify the customer if the business is not interconnected and provide the proper support strategy.
1 – Customer Management
A CRM system helps with all sales and contact management activities.
However, it is always important to break down the core functionalities that the business needs. One of the most important is keeping track of customer profiles and details.
2 – Sales Management
It logs all sales transactions in a central place and links them with the customer profile. This will provide a clear view of each customer interaction with your business.
3 – B2B Sales Progress
B2B sales have many processes and steps. It is crucial to automate as much as possible and log accurate data to keep track of the sales team's progress while removing any redundant tasks that could waste their time.
4 – Contract Management
Automating the contract generation process can help you reduce this task to a single button click.
Operations Automation Examples
Small businesses can automate many operational processes to free up staff's time, ensure compliance with laws and even execute tasks without human interaction.
5 – Human Resources
You can automate the onboarding process for new employees and self-services to the staff.
To reduce pressure on the HR team, you can automate services like checking their vacation balance and submitting new requests and other HR-related letters.
6 – Supply Chain
Start by automating Purchase orders based on the company's current need for supplies or inventory.
For example, the system can automatically order raw materials from trusted vendors to ensure an adequate supply based on a manufacturer's production schedule.
Or, imagine a grocery store that can automatically receive replenishment orders. You need to match real-time sales so that shelves aren't empty or filled with slow-moving products.
7 – Business Travel Planning/Scheduling
Automated business travel planning and scheduling allow employees to schedule and expense business travel within the rules and expense budgets set by the employer.
8 – Expense Management
Employees can take a picture of receipts for travel, meals, or other expenses and submit them through an app that triggers a workflow for approval and reimbursement.
9 – Project Management
Keeping track of a project can be tedious of the tasks, running costs, and budget. Having an automated flow between the different attributes of the project delivery could ensure the timely delivery of a project and reduce project overruns.
Marketing Automation Examples
Marketing automation has been around for a long time and is trendy. Many tools can automate every part of your marketing activities.
Let's explore some examples:
10 – Lead Management
As new leads come in, the marketing automation system can track these prospects as they move through the sales cycle.
The system will put leads into various categories: marketing-qualified leads, sales-qualified leads, etc.
It will record any communication or critical developments, and some systems will assign the leads a score based on their potential to become paying customers.
11 – Email Campaigns
Marketing automation software can help coordinate email marketing campaigns and increase their effectiveness with performance metrics.
For example, it might track the date your customer purchased a refrigerator, send them maintenance reminders annually, or notify them of complementary products on sale.
Hubspot has a free tier you could begin with.
12 – Display Ads
Prospects are more likely to convert when they see multiple messages across different channels, and display ads on websites or social media platforms are another effective way to reach your audience.
Marketing automation can ensure the right people see these ads.
For example, a business could target someone that clicked through an email about a new product line with a Facebook ad about that same line.
13 – Social Media Posts
A marketing automation system helps companies manage their posts across platforms and schedule future posts. It's a centralized place for everyone to see social media activity.
SocialBu and OneUp are cost-effective and intuitive tools to use.
14 – Direct Mail Campaigns
The system might, for example, trigger the mailing of a coupon to customers who download the brand's app.
The bottom line…
These are just a few examples of standard automation practices. In reality, each business can have its vision.
The bottom line of taking a digital automation initiative is to stand out in the market, which is the core value proposition of Beezr.
It's ok if you are unsure where to start; we are happy to sit down with you and discover how to replenish your business process.
Drop us a message here, and we'll contact you immediately to kick-start your digital journey.