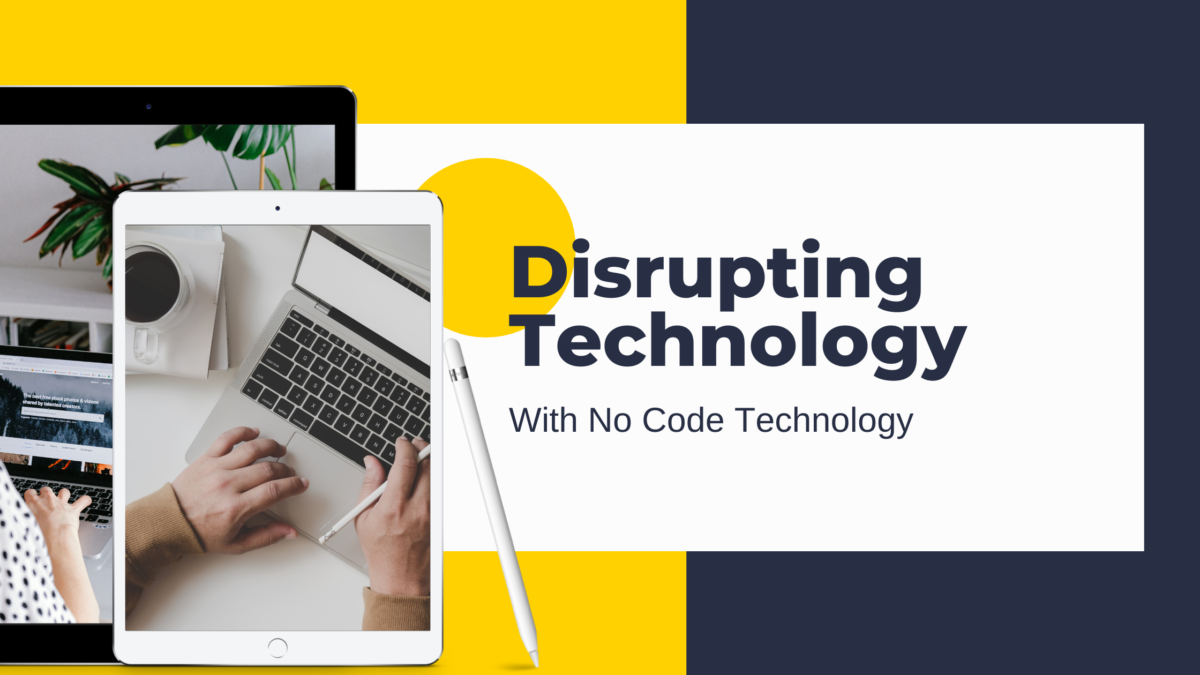 Disrupting Technology with No Code Technology
Engineers built technology to make your business operate seamlessly with predictable steps and standard processes.
Whatever your business size, you must use some technology to help you in your operations.
This post will talk about different approaches to technology adoption and no-code, the new technology trend everyone is talking about.
First, let's explore how business owners manage their work from the get-go.
Some companies rely on Excel sheets, an e-commerce website, an accounting application, or even a complete ERP. The common aspect between all businesses is that they understand the importance of technology for their operations.
However, the tech sophistication varies.
In 2020, the world was blessed with Covid-19 and considered an update to Covid-20. Business owners behind their digitalization strategies felt they hit the hardest. Whether because they weren't ready to work remotely or their method of operation couldn't handle the spike of requests from online purchases.
Which brings us to the question that not many business owners and execs have the answer to, what is the right software my business needs?
When choosing a software solution to help a particular aspect of the business operation, you have to ask yourself two questions:
Is there a product that does what I need?
Should I pay for a custom solution to fit my requirements exactly?
Now let's analyze both options to see the differences, pros, and cons.
Option 1: The Ready-made Product
I assume you are familiar with standard software abbreviations such as CRM (Customer Relationship Management) and ERP ( Enterprise Resource Planning).
Now, let's say that you realize that your business has outgrown the Excel spreadsheet, and you need to have a CRM to serve better and retain your clients.
The first challenge you'll face is choosing the right product.
You will be amazed by the number of available products in the market to fit a specific function. Your job is to review, compare, and shortlist to decide which one fits your business needs.
With any ready-made product, you will probably face your second challenge; product fit.
It means either:
The product is too big for your requirements and feels crowded for you and your users.
The product is too big for your requirements and feels crowded for you and your users.
Your requirements will test the ability of the vendor or partner to analyze and implement the chosen product.
After a month or three, you finally have your software delivered; hopefully, it's everything you need.
The third challenge is post-implementation changes; your needs evolve with time. So, today's good fit may not be the best tomorrow.
Then, you must issue a new CR (Change Request) to the vendor and re-enter this loop.
PAY MORE MONEY!
Option 2: The Custom-made Solution
Sometimes, your business needs are more customized than what a ready-made product offers.
Or you want to digitize an internal process unique to your business operations with no actual product.
This is the time when you decide to hire a team of developers to build something just for you.
Customized software has the upside of delivering you exactly what you need, in which you will overcome the product fitting challenge. However, that comes at the price of:
You have paid and are waiting for a solution; you don't know what it will look like.
The delivery cycle is much longer than a ready-made product.
The critical part of this option is "Vendor Lock-in."
Vendor lock-in happens when you don't have a technical team to take over the code. Once it is delivered, you will be forced to keep in business with the same vendor for a long time.
You probably feel unsettled and see technology as a pain in the head. Maybe that's why you've been in love with spreadsheets for so long.
What if I told you there is a third option?
An option that brings the best of both worlds to make you fall in love with technology once again.
No Code Technology: The Best of Both Worlds
No-Code Development Platforms.
Programmers created no-code platforms to democratize technology and give power back to business users.
The idea is to instantly transform your ideas into a working application without writing a single line of code.
A recent study by Gartner estimates 65% of applications will be developed by no-code / low-code software by 2024.
The no-code revolution accelerates the ability to build software 100X faster. It is a faster, easier, and more efficient use of time.
Now, let me introduce you to Beezr.
Beezr is a no-code development platform that allows users to bring their ideas to life in a matter of hours without a single line of code!
To give you a clearer vision, here's how the Beezr no-code platform resolves the "traditional challenges":
Product Research: there is no need to find a product that matches your idea when bringing your vision to life. We also provide pre-built templates to help speed up your process of building.
Product Fitting: Similar to customized solutions, we eliminate product fitting by providing tailored fit software solutions.
Changes: the best part is you can make the changes yourself! You have access to the designer space to build and change everything.
In Conclusion
Beezr wants our business users and innovators to have the right tools to bring their ideas into the world without coding knowledge limitations.
In the next blog posts, we will dig into use cases, features, and more insights about the tech industry. So keep posted, and we are always happy to hear, so drop us an email at any time.