From Sales to inventory, unlock your Retail business potential with Beezr templates.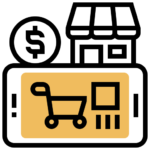 Integrate your sales channels for order fulfillment.
Update your inventory upon sales orders.
Automate invoice generation, send notifications to customers & suppliers.
Manage your Warehouse and Locations.
Create products and suppliers.
Manage and restock your Inventory.
Automatic Inventory deduction.
Real-time Analytics & Dashboard
Display order status, inventory, & expenses.
Analyze customer behaviors from comprehensive reports.
Cluster customers with the same attributes.
Automate purchase orders & generate purchase requests.
Place new purchases in inventory.
Generate contracts & automate invoices.
Drop us a message and let's have a chat on how we can help!