Keep track of all your IT equipment's, maintenance, and assignments within a unified digital platform.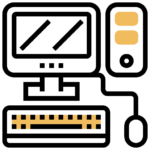 Keep track of your items inventory.
Create a supplier base and product list for each supplier.
Update items when checked-in or checked-out.
Manage asset status for installations, repairs, & setup.
Integrate with HR application for checking out assets as part of the onboarding process.
Check-in requests to put back items into circulation.
Submit maintenance request for assets.
Manage replacements for faulty items.
Drop us a message and let's have a chat on how we can help!