Recruit, track, & empower employees through our efficient readymade template.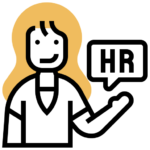 Create and manage job postings.
Manage talent pools based on skill sets.
Track applicant profiles and add them to talent pools.
Automate applicant notifications.
Automate the onboarding process.
Streamline the approvals of different departments.
Notify employees with the current status.
Manage leave requests for submission, approval, & rejection.
Apply leave policies & restrictions.
View leave balance, pending requests, & leave history.
Capture expense requests and proof receipts.
Streamline approvals from managers.
Notify employees with the status automatically.
Drop us a message and let's have a chat on how we can help!