Manage your customer relations and sales operations all within a centralized solution.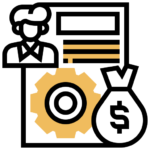 Log and track customer interactions with your brand.
Automate activities for prospects to schedule follow-ups.
Advanced search and filter features to view leads.
Centralized view of each contact to view associated deals.
Log sales transactions easily from one interface.
Integrate inventory with sales to deduct item count.
Integrate project management with service sales.
Automatically generate sales orders based on templates.
Real-time Analytics & Dashboard
Display sales activities & deal status.
Find insights about engagement patterns.
Show team targets and deal conversion ratio.
Automate invoice generation.
Track payment status and enable partial payments.
Automatically close invoice once payment is complete.
Drop us a message and let's have a chat on how we can help!